Berlinale 2007 - A fantastic year for Asian film!
Golden Bear for best film: Tu ya de hun shi (Tuya's Marriage)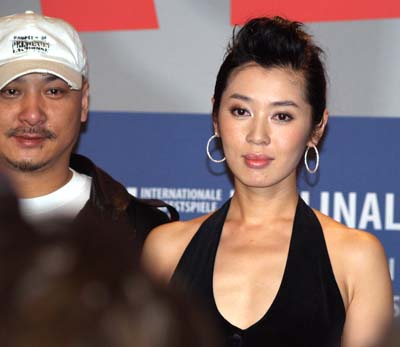 Director Wang Quan'an and actress Yu Nan
Tuya's Marriage is a beautiful film about a very strong female shepherd (Yu Nan) in Mongolia – and what she has to do to survive in the harsh environment of the cold Mongolian landscape. A tribute to a disappearing lifestyle told in beautiful pictures and with an engaging story and fine performances.
Alfred Bauer prize - For a work of particular innovation
Park Chan-wook's latest film won the Alfred Bauer prize – also in the main competition. Sai bog u ji man gwen chan a (I'm a Cyborg, but that's OK) very much deserved its prize.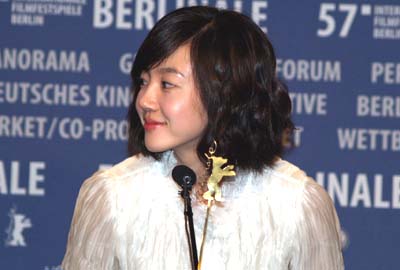 Lim Soo-jung
Don't expect a continuation of the Vengeance trilogy. This is more of an art film – a fantasy about a young patient (Lim Soo-jung) in a mental institution. Innovative and experimental the film will grab and move you – if you open your senses and drop any preconceived notions about what a Park film should be.
THIS is how a film should be – and all the more credit to Park for daring to make a film that will not be a big box office hit. It is a superb piece of filmmaking – in a lot of ways the best film of this year's Berlinale.
...And several more prizes!
In the Generation competition Thailand's Songyos Sugmakanan got the Children's Jury Crystal Bear for his "Dek Hor" (Dorm) – and his film also got a Special Mention from the International Jury Generation Kplus.
The Ecumenical Jury gave its prize for the Competition to "Tu ya de hun shi" and its prize for the Panorama competition to China's Zhang Yang for his humorous road movie "Luo Ye Gui Gen" (Getting Home).
The Netpac-Prize went to Japanese Momoi Kaori's "Ichijiku no kao" (Face of a Fig Tree).
And finally the Teddy Award went to Taiwanese Zero Chou for "Ci-Qing" (Spider Lilies).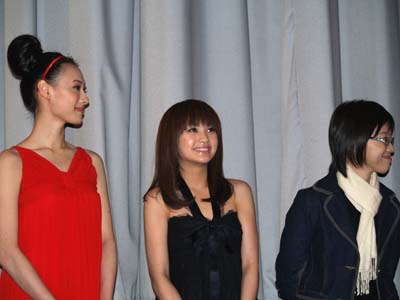 Isabella Leong, Rainie Yang and Zero Chou
If you want to see a list of all the prizes (also the non-Asian ones J), you can find them here.
All the stars at the Berlinale
As usual a lot of stars were present. At the press conferences you get the opportunity to ask questions of the stars. About the films they represent, about themselves – or if you don't have any questions you just sit openmouthed and gaze at these fantastic and famous directors, actors and actresses. For me that's a big part of the festival.
This year again had a large number of stars, and if you also wanted to see some films you simply could not be present at all the press conferences. Among the stars I saw were Robert de Niro, Clint Eastwood, Steven Soderbergh, Judy Dench, Matt Damon, Cate Blanchett, Willem Dafoe, Paul Schrader, Lauren Bacall, Arthur Penn, Wim Wenders, Julie Delpy, John Waters and Jess Weixler.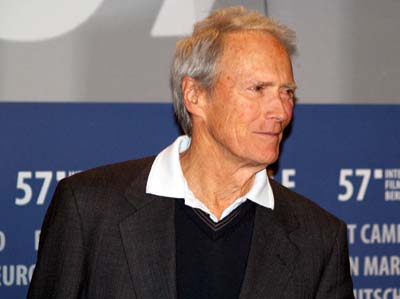 Clint Eastwood - "Letters from Iwo Jima"
Of course a lot of Asian stars were present as well. Park Chan-wook, Lim Soo-jung, Rain, Rei Dan, Kaori Momoi, E-J Yong, Zhang Yang, Bat Ulzil, Seo Jung, Zhang Lu, Yeo In-gwang, Anna Tsuchiya, Mika Ninagawa, Isabella Leong, Rainie Yang, Zero Chou, Wang Quan'an and Yu Nan.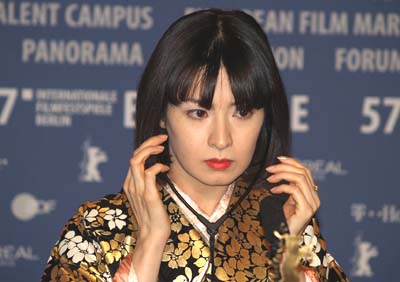 Rei Dan - "Bushi no ichibun" (Love and Honor)
The films
There were a lot of good films this year: "Letters from Iwo Jima", "The Good Shepherd", "Notes on a Scandal", "2 Days in Paris" and "Interview" to mention the most outstanding non-Asian films. There were also a couple of disappointments. I had really been looking forward to "300" – the adaptation of Frank Miller's comic book. Unfortunately I found it much too bombastic and not at all successful in transforming the comic to the big screen – as opposed to "Sin City", which I loved. Alas, you cannot win every time.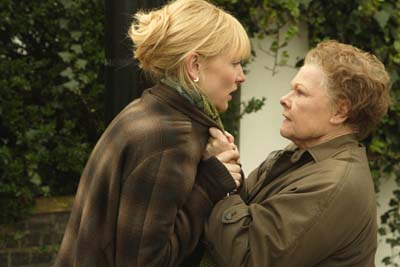 Cate Blanchett and Judy Dench - "Notes on a Scandal"
As usual I mostly watched Asian films. You have already read about the winners, but there were many more fine Asian films in Berlin this year. Like last year I'll make a list of those I liked – in no specific order:
Tu ya de hun shi (Tuya's Marriage)
Sai bog u ji man gwen chan a (I'm a Cyborg, but that's OK)
Luo ye gui gen (Getting Home)
Meng na li sha (Mona Lisa)
Dasepo Sonyeo (Dasepo Naughty Girls)
Bushi no ichibun (Love and Honor)
Aju teukbyeolhan sonnim (Ad Lib Night)
Ice keh-ki (Ice Bar)
Ci-qing (Spider Lilies)
I saw a number of Asian films that I didn't really like, but as usual there were also a whole lot of films that I simply didn't have the time and stamina to catch.
Hopefully I'll find the time this year to review a higher number of films from the above list, than I reviewed from last year's list.
Almost certain to become a cult film.
Nearly every year at the Berlinale you let yourself be caught by a poster, a flyer or just some hype about a film that you had not planned to see. This year it was the poster below from "Teeth" that caught my eye.
Director Mitchell Lichtenstein has made a film about the old "vagina dentata" myth. This time it's not a myth – it's for real!
High school student Dawn (Jess Weixler – this part won her a special jury prize for acting at this year's Sundance) is the most active participant of the local chastity group – working hard to suppress her budding sensuality. Innocent Dawn knows nothing about her own body. Discovering she has a toothed vagina comes as a shock and nothing is ever the same again for Dawn.
If you are squeamish – maybe you should stay away. But the film is a whole lot of fun. When I saw the film the whole theatre was laughing out loud. It may not be a perfect film, but it sure is funny – a born cult film.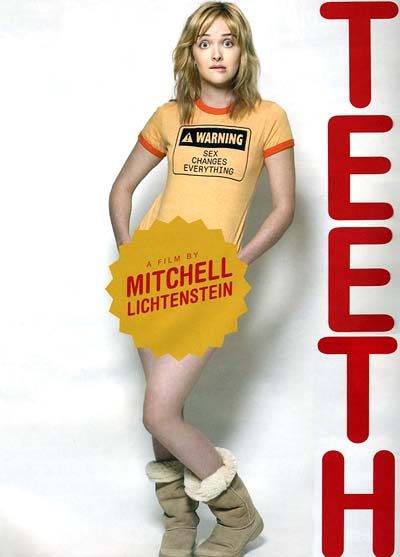 Jess Weixler
P.S. During the Q & A after the film, I asked the actors, how they felt, when they had sex the first time after making the film. Jess Weixler: "I felt relaxed and in control". John Hensley: "Relieved". These answers will mean more to you, when you have seen the film.
And so, once again, the Berlinale was over. I don't think, I'll ever grow tired of that film festival. Everything is nicely organized, people are friendly, you get to see a lot of films, meet a lot of stars and you go home looking forward to next year.
Uffe Stegmann
24 February 2007