Berlinale 2008 - A year of music!
Special for this year's Berlinale were the many music related entries. Leading the pack was the latest Martin Scorsese film "Shine a Light" - a concert film with The Rolling Stones.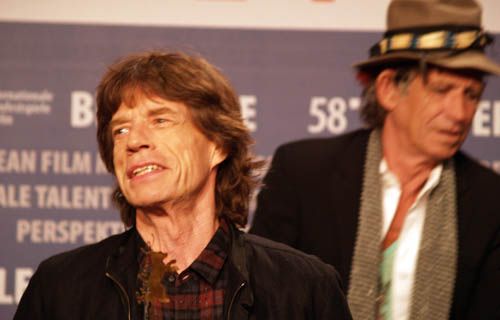 Mick Jagger / Keith Richards
It was very hard to sit still during this film - you just had an urge to tap your feet, clap your hands and shout your approval after each number. The old boys (that goes for both Scorsese and The Rolling Stones) still have what it takes!
The Press Conference was packed to the very last seat and a lot of journalists were not lucky enough to get in. The same thing happened at the Press Conference for Madonna (who was in Berlin as a first time director - "Filth and Wisdom"). Rounding up the music films were Neil Young and Patti Smith. Patti Smith even pulled out her guitar and sang us a song at the end of her Press Conference. You can see all Press Conferences in streaming video at the Berlinale's site.
The Golden Bear for best film went to Brazilian "Tropa de elite" (The Elite Squad). With Costa-Gavras as Jury President it was a (not surprisingly) very political choice. Most of the Press were rooting for "There Will be Blood" (Paul Thomas Anderson) or "Happy-Go-Lucky" (Mike Leigh). As usual a lot of prizes are given out at the festival - the full list can be seen here.
A lot of good films were shown and as usual, it was impossible to see them all. I saw some of the good ones, some average and also walked out on some stinkers - par for the course. For me the positive surprise this year was John Crowley's "Boy A". A young man is given a new identity and moved to a new city, where he is not known. The reason for this is slowly revealed during the film. As we gain knowledge, we start questioning issues like guilt, innocence, punishment and the possibility of redemption. "Boy A" is a beautiful, sensitive and important film.
The Stars
One of the reasons I love going to the Berlinale is the possibility of seeing all the big stars in person. This year was no exception. I already mentioned Martin Scorsese, The Rolling Stones, Neil Young and Patti Smith. Also present was Daniel Day Lewis, Paul Thomas Anderson, Penélope Cruz, Ben Kingsley, Eric Bana, Natalie Portman and Scarlett Johansson - just to mention some!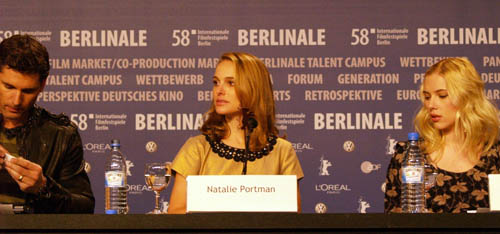 Eric Bana / Natalie / Scarlett
The Asian section - SHU QI at the Berlinale!
What really got me going this year was Shu Qi's presence. She was chosen as a member of the International Jury - a great honor that she took very seriously. You probably already know that I think Shu Qi is arguably the best actress in Asia (after all I am one of the editor's of www.ShuQi.org). She is extremely talented and beautiful, but still a very friendly and down to earth person - as I found out when I met her at the Berlinale. You can read more about this meeting here (...and you can see a lot of fresh pictures of her here).

Shu Qi
Asian prizes
This year was not the blockbuster year for Asian films that last year was. However, Asian films won quite a respectable number of prizes. China's Wang Ziaoshuai's "Zuo You" (In Love we Trust) won the Silver Bear for best script and also a special mention by the Ecumenical Jury.
Three Japanese films won prizes:
Kumasaka Izuru's "Asyl - Park and Love Hotel" won the Best First Feature Award.
Wakamatsu Koji's "United Red Army" won both the NETPAC prize and the C.I.C.A.E. prize.
Naoko Ogigami's "Megane" (Glasses) won the Manfred Salzgeber Prize
And finally Taiwan's Singing Chen won the Tagesspiegel Readers' Prize for "God Man Dog".
Asian Stars
Besides Shu Qi a whole number of Asian Stars were present: Yoji Yamada, Tadanobu Asano, Sayuri Yoshinaga, Jonnie To, Simon Yam, Kelly Lin, Hong Sang Soo, Park Eun Hye, Wang Xiaoshua, Weiwei Liu , Taishen Cheng, Xiatong Zhang, Chang Tso-chi, Tseng Yi-che, Chen Pei-chun, Zero Chou, Jaihong Juhn, Cha Soo-yeon - just to mention some of them.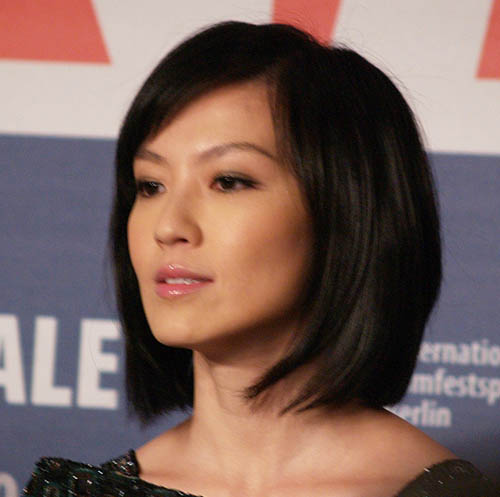 Kelly Lin
Asian Films
Unfortunately I did not see as many films this year, as I would have liked. This was mainly due to the fact that there were a lot of interesting Press Conferences and for some of them you had to be there a couple of hours early to even get a seat!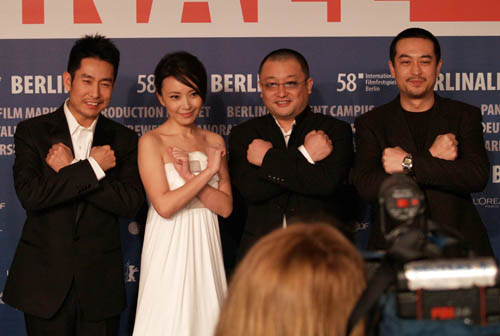 In Love we Trust
As usual here is a list of those I liked - I am sure the list would have been a lot longer, if it had been possible for me to see all the films, I wanted to see:
Kabei (Out Mother) - Yoji Yamada (Japan)
Man Jeuk (Sparrow) - Jonnie To (Hong Kong)
Zuo You (In Love We Trust) - Wang Xiaoshua (China)
Asyl: Park and Love Hotel - Izuru Kumasaka (Japan)
Arumdabda (Beautiful) - Jaihong Juhn (South Korea)
Bangbang wo aishen (Help me Eros) - Kang-sheng Lee (Taiwan)
The End
This time I went home just as tired as usual - but I had met Shu Qi! Every time I leave the Berlinale, I firmly believe that it cannot get any better - but it usually does.
So, until next year...
Uffe Stegmann
1 March 2008