SHU QI AT BERLIN
Shu Qi is wonderful!
Well, as if you did not know already, but the reason I tell you again is that I met her in person at the Berlinale - the International Film Festival in Berlin. Shu Qi was chosen for the International Jury. The first time I saw her, was at the press conference where the jury was presented. She said, she was honored to have been chosen, and would do her very best.
At the press conference I told her that I was extra happy to see her in Berlin, because I was one of the editors of her greatest fan site in English - www.shuqi.org. This brought a laugh from the rest of the press corps - and a smile from Shu Qi.
I told her that I thought she was an incredibly talented actress, but that I thought it was not easy to find good female roles in Hong Kong, where she makes most of her films. In my opinion she has found better roles in her native Taiwan, most notably with director Hou Hsiao-hsien. I asked her, if she was looking for more challenging roles outside of Hong Kong.
All the questions for Shu Qi was translated into Mandarin, and I think the translation of my question was not quite accurate. She answered that a lot of good films were coming out of Asia, and she was quite happy with doing Asian films. I know a lot of good films are coming out of Asia even out of Hong Kong again - but all I was doing was complaining about the way the female roles in most Hong Kong films are written. Of course that goes for most female roles all over the world - but I just wish more directors could see beyond her beauty and let her use her fantastic talent as an actress. Well, it was fantastic to see her and sit just three meters away.
After the press conference I even got her to sign a picture I had brought!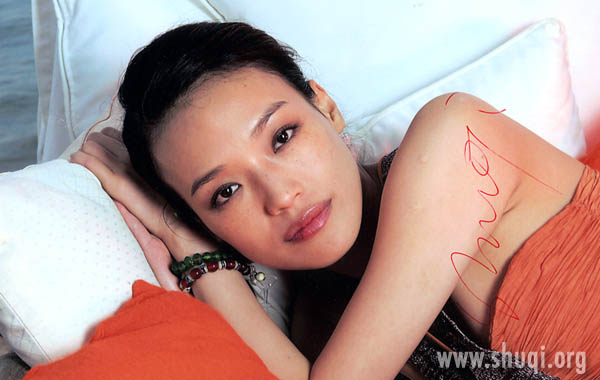 During the Berlinale I saw her several times at the press showings of the competition films, where the jury was present. At one time I sat just two seats behind her. As you may have noticed by now, I was kind of star struck.
If you want to see her on the red carpet and also handing out the Silver Bear for the best actor, you should go the video streaming on the Berlinale home page, and click on The Awards.
But the best is yet to come....
I went to a party with Shu Qi!
At a press conference for a Taiwanese film I talked to a couple of Taiwanese journalists. They told me that the Taiwanese delegation was having a party, where Shu Qi had promised to show up. Would I like to come?
I could not believe my luck.
I showed up at the party around nine o'clock in the evening and was told that Shu Qi was expected around 10. It was a very nice party. Taiwan had a number of films in the various competitions in Berlin, and a lot of the actors were present. But just like me a lot of the people present were obviously waiting for Shu Qi to show up. She had been to the 75th birthday of jury foreman Costa-Gavras, but had left early to be at this party.
And then she arrived!
What amazed me the most was how natural and fresh she was. This was one of the last days of a long festival with a grueling programme for the jury members (and for the rest of us as well) - and she was still beautiful, open and friendly. Wow!
Everybody wanted pictures, a couple of video crews wanted interviews and she took it all in stride even though she must have been bone tired.
I must admit I was a bit flabbergasted being so close to her. Normally I'm not a shy person, but here I acted like a young schoolboy (which I'm definitely not anymore!).
However, I pulled myself together and went up to her, shook her hand, and introduced myself. She remembered me from the press conference, and I think I said some inane things about writing an article (this one) about her on our website. She took it very well, and answered "okay", which I guess is about the only thing you can say to a remark like that.
I had one of the other guests take a picture of me standing next to her, but unfortunately it came out rather blurred - just like the state of my mind.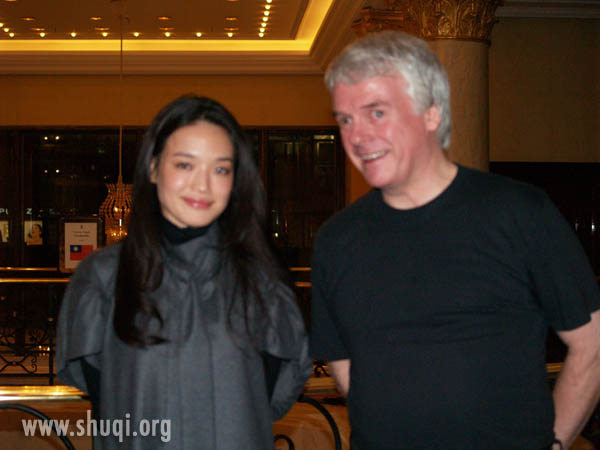 Of course I took a lot of pictures, and you can see most of them here.
Well, what more can I say? I met Shu Qi in person, and just like in her movies she is beautiful, full of life and on top of that very nice, kind and down to earth.
Uffe Stegmann, March 2008
P.S. Read more about the Berlinale and the other stars and films here.
Reproduction of this article in whole or in part is allowed, provided that "www.shuqi.org" is clearly listed as the source and Uffe Stegmann is credited for the photos and the writing. Also, we'd appreciate it if you send us an email if you use any part of this article.