MERRY CHRISTMAS AND HAPPY NEW YEAR to all Shu QI fans from ShuQi.org!
Also added a couple of images here and there, fixed a few errors, added links and other titbits, too numerous to mention here. Some of these updates have been contributed by visitors quite a while ago, apologies for not being able to add them to the site sooner.
You may have noticed a few subtle changes on the site. We've now completed a technical overhaul of the site, which includes a new main page, a redesign of the movie pages and some other stuff. Hope you like it.
Shu Qi is nominated in the Best Actress category for Look for a Star, at The 29th Hong Kong Film Awards. Not sure when the actual awards will be given out, we're crossing our fingers already.
Here's a little reminder: The folks behind
New York, I Love You
are running competiions on a few social networks. Check 'em out by going to the
competition page
As the opening of
New York, I Love You
moves ever closer the filmmakers are preparing to launch a big contest about the film. You can read more about it here:
Read more
.
It's Shu Qi's birthday today! HAPPY BIRTHDAY SHU QI!!! We hope you have a great day and we hope the next year will bring you everything you wish for.

All the best from the ShuQi.org team!

Uffe & David
It's Shu Qi's birthday today! She's turning sweet 32, but of course, she still could pass for 20. Only a few weeks ago we met the real life Shu Qi (Well, one of us did -
read Uffe's report about it here
) and we're happy to report that she's every bit as sweet and gentle off screen, as she is on screen.
HAPPY BIRTHDAY SHU QI!!!
May the next year bring happiness to you, and many great films to us, your fans.
All the best from the ShuQi.org team!
Uffe & David
Amazing news! Shu Qi is set to join the international jury at the upcoming Berlin Film Festival.
As he has a habit of doing Uffe will visit the festival and hopefully get a chance to see the one and only Shu Qi in real life! Fantastic! Expect a full report when he returns.
According to Associated Press Shu Qi will star in Hou Hsiao-hsien's upcoming kung fu movie "The Assassin". The film will take place in ancient Tang Dynasty and feature Shu Qi as Huang Hsin-yi, a woman who's adopted and trained by nuns as a political assassin.
Taiwanese studio SinoMovie will produce in coorporation with 20th Century Fox in the US, and possibly a South Korean studio as well. The US$12 million production has no start-date yet.
Not only was Shu Qi present at the opening of the Cannes Film Festival, SHE actually declared the festival open!
You can see her do so at this
You Tube clip
. Thanx to Antoine, who gave us the heads up.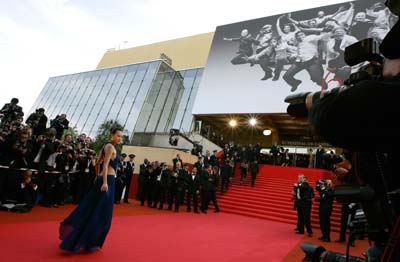 Today's Shu Qi's birthday! HAPPY BIRTHDAY from all of us here at ShuQi.org. May you have another great year, with many new projects and lots of success!
Shu Qi has won the Golden Horse, for Best Lead Actress, for "Three Times"! And she cried a little bit! CONGRATULATIONS from us here at ShuQi.org!
Thanx to Leanne, the first who brought this to our attention, and sent us some pictures!
Shu Qi is scheduled for for another high profile international appearance in the movie "Chasing the Dragon". She'll star alongside Ken Watanabe and Wesley Snipes, in this action-adventure to be directed by Chris Nahon ("Kiss of the Dragon").
Source: Production Weekly
Shu Qi has been nominated for a Golden Horse award, for her performance in "Three Times". She's up against Miriam Yeung - for "Drink , Drank , Drunk" - Chen Shiang Chyi for "The Wayward Cloud" - and Michelle Krusiec - for "Saving Face".
On top of this, the film was also nominated in the following categories: Best Picture, Best Director, Best Screenplay, Best Cinematography, Best Art Direction, Best Make Up & Costume Design and Best Editing.
The award ceremony will be held on November 13.
Source:
The Golde Horse Award website
.